This Privacy Notice explains how we collect, use and store your data. We may change this policy from time to time and will advise you on our website or by letter or email of any changes. By using the BHCT website, you are agreeing to be bound by this policy.
Who we are
The Beachy Head Chaplaincy Team (BHCT) are the charity that seeks to save lives at Beachy Head, using search and rescue and crisis intervention to reach out, offering hope to anyone who is suicidal or in distress.
How we collect information from you
Information can be obtained about you from; the BHCT website, by using the contact form, by post, email, or telephone; completing a financial form for Gift Aid purposes or for setting up a standing order; registering for a newsletter or prayer letter; by using third parties to donate, such as JustGiving and PayPal; volunteering; through employment; or by information passed to us by yourself or a third party, because of concerns of life and death.
What type of information is collected
Personal information that may be collected by us could include your name, address, email address, telephone number, car registration, personal description. Financial information when giving a donation or information needed for Gift Aid.
How your information is used
To deal with any enquiry that you have made.
To process any financial donations and store relevant information for making a claim for Gift Aid.
To process and manage any activity that you have agreed to
To provide you with information via a prayer letter or newsletter that has been requested by you.
To notify you of any changes to our services.
To manage any volunteering agreements.
To process any applications for employment with BHCT
To assist us in searches for suicidal and despondent people. Limited data (names will not be used in this analysis) will be used for statistical reasons to help with local and regional suicide prevention work.
How your information is stored
Information that is gathered by BHCT will be stored in several ways:
Paper files
Microsoft Office 365; local computer and cloud based
Accounting software
Mail Chimp – see their Privacy Policy
All paper versions are secured in a locked cupboard within locked offices.
Cloud based personal information is with reputable third-party organisations situated inside or outside the European Economic Area. These organisations are required to safeguard personal information pursuant to their contractual obligations or participation in international data transfer mechanisms including the US-EU Privacy Shield framework.
How long do we hold your information?
Any information that is held by us, will be reviewed on a regular basis and will not be retained for longer than is necessary for the activity that it was obtained for. Any personal identification markers used in our operational work at Beachy Head, will be removed as soon as operationally appropriate. Some information we are legally required to hold, for example, the collection of Gift Aid. After this time, your personal information will be disposed of securely.
Sharing of information
We do not share, sell or rent any of your information with any third parties, except where we have a legal duty to do so, for example, to HM Revenue and Customs for the collection of Gift Aid.
Your personal information will only be used by relevant staff and or volunteers for the purpose that it was given.
Marketing
We would like to use your details to keep in touch about the various ways of supporting us. We will send you this information only if you agree to it and only by using your preferred way, which could be by: post, or email.
You can update your choices, or cancel, at any time by letting us know by:
email: chaplain@bhct.org.uk
post: 1 Commercial Road, Eastbourne, BN21 3XQ
Management of volunteers
Your personal data will be used to manage your volunteering, which could include information about your shifts, any expense claims that you have made and any information that you need to fulfil your volunteering role. This will be from your first enquiry till the time that you stop volunteering.
We may need to share this information with any funders to help them monitor how their funding is being used.
Recruitment and employment
BHCT will process personal and sensitive data from job applications and employees. This data could include health, racial or ethnic origin and criminal convictions. Sensitive data is defined as: information about racial or ethnic origin; political opinions; religious or similar beliefs; trade union membership; physical or mental health and criminal allegations, proceedings or convictions.
There are contractual responsibilities which arise from a contract of employment regarding data that will be processed. This could include: payroll; bank account; postal address; sick pay; leave; maternity pay; pension and emergency contacts.
The statutory responsibilities are for legal reasons for BHCT as an employer. The data that will be processed could be for: tax; national insurance; statutory sick and maternity pay; family leave; work permits and equal opportunities monitoring.
For BHCT's management responsibilities and for the organisational functioning of BHCT, we will process data relating to: recruitment and employment; training and development; absence; disciplinary matters; email address and telephone number.
Data will be processed about an employee's health where it is necessary to, record absence from work due to sickness and to pass the information to a third party, who administer BHCT's PAYE.
Some of the above data will also need to be transferred to third parties to fulfil our contractual and statutory responsibilities, e.g. for payroll and for tax data to HM Revenue and Customs.
Security
Taking your data seriously, is very important to us. We have taken steps to ensure that your data is protected from unauthorised access, use, destruction, alteration and loss. We cannot guarantee 100% any information that has been transmitted to us via the internet and you do so at your own risk.
Cookies
What is a cookie?
BHCT uses cookies on our website. A cookie is a small text file that is downloaded onto 'terminal equipment' (e.g. a computer or smartphone) when the user accesses a website. It allows the website to recognise that user's device and store some information about the user's preferences or past actions.
How we use cookies
We use Google Analytics which is a simple, easy-to-use tool that helps website owners measure how users interact with website content. Google Analytics uses cookies to "remember" what a user has done on previous pages / interactions with the website.
You will be given the option to 'consent or not to consent' cookies for the purposes of marketing, personalisation and analytics. You have the option of removing consent at any time by clicking on the 'cookie' icon found in the bottom right hand side on any website page. Please note, that at present time, we do not collect cookies for marketing purposes.
Your rights
Please email: chaplain@bhct.org.uk or write to: BHCT, 1 Commercial Road, Eastbourne, BN21 3XQ if you have any concerns regarding this policy or your rights.
You have a right to request any information that we hold about you, free of charge.
You can ask us to correct any inaccurate information.
You can request that your information be deleted, at any time.
You may withdraw your consent at any time.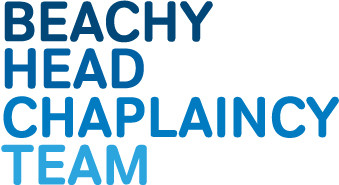 Follow us on Social media: