Chaplain Stories
We would like you to meet volunteer chaplain Pamela and Ray.
Here's Pamela's story: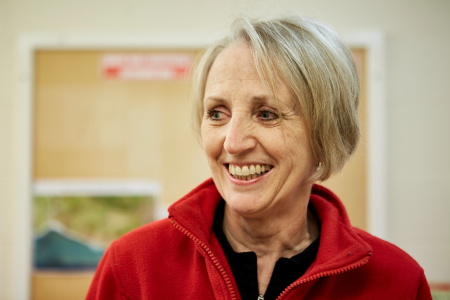 I had a very happy childhood and was the youngest of 6 children living in a secure and godly household. When I was 16 I thought the grass was greener on the other side so I went my own way and left home. I got married and had a child by 18. Many years later I found myself with my daughter at a Billy Graham Live Link in Tunbridge Wells. I listened to his message and felt Gods call on my life that night. I responded to the altar call from Billy Graham and my Christian walk started on that day in July 1989.
Shortly after becoming a Christian, things came to light that caused difficulties in my marriage, but we decided to work things through. Unfortunately my marriage broke down and we divorced in 2007.
I met Bill and we married in 2009 and moved to Horam where I started attending Horam Parish church. I found a newsletter in church that explained the work of the Beachy Head Chaplaincy Team. So I took it home and read it. I felt drawn to the work and I thought I will ring them up to find out more, unfortunately when I rang I got an answerphone message and I wasn't brave enough to leave a message. Several months later, another newsletter appeared in church. Again, I took it home and read it, and this time I felt I had to call and leave a message, that was early on in 2011.
That message lead to an interview and observation shifts after which I knew I was called to become a Chaplain. The team was quite small back then just 14 of us but we still covered 7 days a week from 9am until midnight every day.
I was still working three and volunteering as a Chaplain in my spare time. Three years ago I retired from work and have continued to serve as a Chaplain.
I believe I was called to be a Chaplain and I would say I've had a lot of difficult situations in my own life which help me to have compassion, understanding and empathy when somebody is in pain and hurts right deep inside their inner being. I don't judge any person I meet at Beach Head. We can't judge a person; we don't fully know what's gone on in that person's life that has brought them to this place. I have a heart for the people I meet on my shift.
There are certain key characteristics you need to have to be a chaplain.
We must be very good listeners….really listen!!! . We can't always understand what someone's going through, especially if we haven't been through what they have experienced ourselves, but we can certainly empathize and listen. Sometimes it's the first time they have spoken about the difficulties they are going through. Life can be so hard for so many people. It's a privilege to be there in their time of need and really hear their story.
Being a chaplain is a privilege! To be there when someone is in crisis, at their time of need and really hear their story. To help them in some way for me is giving back to God. I believe God has done so much good in my life, this is my way of saying thank you to God. It's not huge by some standards but for me it's where I can make a difference.
In June 2021 Pam will have served as a Volunteer Chaplain for 10 years continuously!
Here's Ray's story: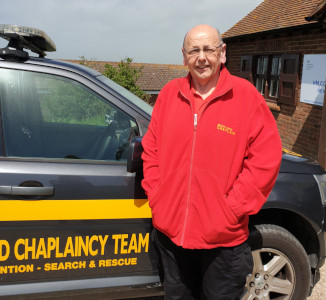 I remember the day I realised that Jesus was a real person. I was in my mid 20's living away from home and it was Christmas morning. I was listening to a radio broadcast from Bethlehem. The presenter of the programme was discussing the historical facts and activity that took place when Jesus was born. This triggered a reaction inside my head, the fact that Jesus was a real person. I wanted to know more so I bought a Bible.
I started reading halfway through the Bible at the part called the New Testament. I can honestly say, I was blown away. I met a man called Jesus who cared for people, no matter who they were or what they had done. This is how I became a Christian.
I joined a local church and this is where I met my wife, Sarah. We now have a wonderful son, Christopher who is 30 and for many years we lived in Medway. I worked for a company called Stanner Stairlifts. I was looking after the East Sussex area and travelling daily from Medway into East Sussex.
Sarah had already retired and one day whilst driving I had a thought that we should move to Sussex. Sarah actually jumped at the idea and we bought a house that was in a bad state and needed a lot of TLC, that first year in Eastbourne was spent renovating the house. We had joined St Johns Meads Church and shortly after finishing the renovations on the house I went along to a morning breakfast talk were I heard a wonderful talk by David one of the Beachy Head Chaplains.
I had been so busy that I had never been to Beachy Head in all the time we had lived in East Sussex and I was actually blown away by the work of the Chaplaincy team.
David arranged for me to visit the team to find out more. I visited on a pitch black night and witnessed the team helping a young lady. I remember being taken aback by the professionalism of the team and the care they demonstrated in dealing with this person. The way they worked with the police that evening and the help the lady received showed not just the need for the Chaplaincy team but also convinced me that this was a service I would like to be part of. I believe it was that night that I felt called to become a chaplain. That was six years ago.
Being a Chaplain has given me a greater awareness and understanding of the mental health crisis we are experiencing as a society in the UK. As a chaplain we are there to serve others. No matter how difficult the weather conditions or what time of the day we are there to help those at Beachy Head who are in crisis. We are also there to help the families of those who have lost loved ones.
Many times on shift I have been reminded of a particular verse in the bible: Matthew 25: 31-40. "I was hungry and you gave me something to eat. I was thirsty and you gave me something to drink. I was a stranger and you invited me in. I was sick and you looked after me." This is what being a Chaplain is for me.
My advice to anyone who is thinking of becoming a chaplain is to remember that it's essential to always maintain an open mind and be a very good listener. It's also essential that as Chaplains we are at all times non-judgmental. I believe for a Chaplain it's important to have an ear for people and a heart for people.
It's always a privilege to help anyone in their time of need.
Put your skills to good use. Volunteer to join our team and make a lifesaving difference. Whatever your speciality whether its social media, fundraising or administration we would love to hear from you.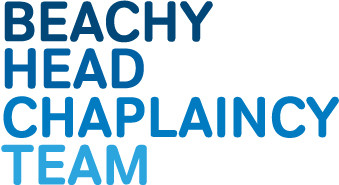 Follow us on Social media: